Dryer Vent Cleaning
Back To Our Services
Dryer vents cleaning is an important part of maintaining your HVAC systems to reduce the risk of dryer vent fires and improving the efficiency of the dryer vent. The U.S. Consumer Product Safety Commission has predicted around 15,500 fires, 10 deaths, 10 injuries and certain cases of carbon monoxide poisoning, annually. With air vent cleaning services Valencia and timely dryer vent replacement Valencia, many injuries and deaths can be prevented.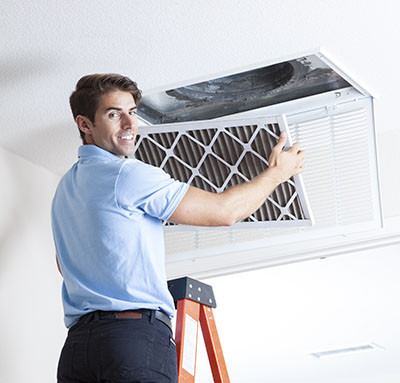 Prevent Fires with Dryer Vent Air System Cleaning Valencia
Dryer vents today are made at longer distances and therefore it provides more space for lint and dirt to gather. Dryers have special lint traps for capturing lint but usually a major chunk of lint is not trapped and gathers around the inside of the dryer. These dirty lint traps not only increase the fire hazard but also result in more time for the unit to return to proper functioning, decreasing its efficiency over time. The lint blockages prevent hot air from escaping since the duct lines are clogged with it. This increases the humidity levels inside the building and increases the chances of mold formation and air allergies. With the reduced air flow, chances are that the dryer air vent does not function at a normal rate, causing an increase in the temperature inside the ducts resulting in fires.
With dryer vent air system cleaning Valencia, you cannot only ensure the safety of people inside the building but also save on heavy expenditure as a result of fire eruptions. Cleaning a dryer vent offers economical advantages in terms of increased efficiency of the HVAC unit resulting in saving energy costs and saving on new unit replacement costs.
Health Benefits of Cleaning a Dryer Vent
HVAC systems act as a haven for gathering contaminations such as bacteria, fungi, dust, allergens and lint. These can result in poor air quality in the room resulting in health ailments such as allergies and breathing problems. With dryer duct cleaning Valencia, you can be assured that our technicians clean your dryer ducts thoroughly to provide you improved indoor air quality.
Dryer Ventilating Cleaning Valencia
If you are looking for dryer vents cleaning and air duct sanitizing in Valencia, then we offer affordable and quality services to clean your HVAC unit so that it reduces your maintenance costs in the long term. Our professional technicians are well versed in advanced techniques such as source removal method to clean and repair HVAC systems. We offer broad range of services including air duct sanitizing, dryer vent replacement, dryer vent repair, air filter cleaning, dryer vent kitchen exhaust hood cleaning and dryer duct cleaning and can replace air duct filter.